Metallic Yarn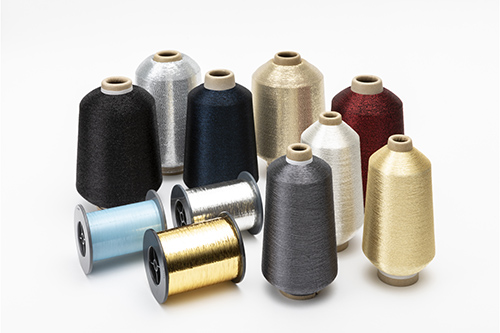 Gold and silver yarns have a wondrous metallic luster. These gold and silver yarns produced with pure silver/aluminum deposition finds applications in knitwear, textiles, and embroidery.
Applications
Traditional Japanese clothing, Western clothing, traditional costumes
Market/Field
Fashion, textiles
Types
By traditional twisting type: Hiraito, Maruyori, Hagoromo, Jabarayori, Tasukiyori, Buriyanyori
By type of metal: Aluminum, Silver
Base film: PET, Nylon
Misc.: Dual-sided, Paper-backed
Q&A
I am very interested in buying this for myself. Can I get some?
Unfortunately this product is not available for sale to the general public.
Is pure gold used for the gold thread?
Silver and aluminum are used and then color is applied on it. We have also products where pure gold is used.