ELgee neo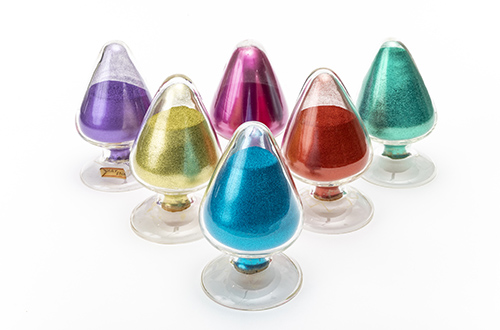 This is a light, very bright metallic powder product that is produced by a vacuum vapor deposition method. Aluminum vapor layer is encompassed by protective layer which can be colorized by pigmenting agents and this product enables a colorful metallic luminosity.
Characteristics
Clear luminosity typical of metallic vapor deposition
Excellent concealing properties
Excellent physical properties such as heat resistance, solvent resistance and weatherability
Applications
Coatings, inks, kneaded resins, molded products
Market/Field
Domestic appliances, automotive, construction, cosmetics
Types
Particle sizes: #35, #100, #150, #200, #325, #500
Q&A
Is the color variation from metal?
The color variation is not from metal. There is a resin layer at each side of the aluminum deposition layer, and we can achieve a variety of colors by adding color pigment to the resin layers.

How does ELgee neo differ from LeafPowder?
LeafPowder is a powder of metal itself, whereas ELgee neo has resin layers to make different types of design and physical properties.